<!-overall document wrapper-->
OUR BOUTIQUE DEPARTURES
Si Fang specializes in exclusive luxury itineraries across Asia, the South Pacific and South Africa. We have created two styles of itineraries, Boutique Travel and Couture Travel. None of our departures have set dates. You decide when you leave and when you come back. We also have no minimum number of travelers, we have arranged trips ranging from one to twenty-six people.
Boutique Departures are set in countries where our knowledge, connections and experience in planning trips will deliver a very unique vacation. We crafted each Boutique itinerary with one simple idea in mind....how many days would it take to see the best of each country? Boutique Departures therefore have a suggested number of days and pre-determined areas to visit. The final cost of your private itinerary will depend on how many people are on your dream trip. Contact us at info@sifangexpeditions.com.
China's Silk Road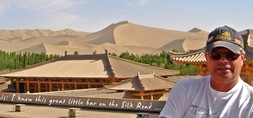 "I know this great little bar on the Silk Road..."